8-9 AM                  Conference Check-in/Packet Pick-up/Breakfast
9-10:15 AM           Keynote by Keith Erekson
"How is Learning like the Mexican Revolution and Texas Politics?"

Drawing lessons from borderlands history, modern politics, and El Paso classrooms, Dr. Keith A. Erekson will apply the concept of liminality—the idea of being in transition or in-between—to improving learning, whether in the classroom, on the job, or in life. Typically, the feeling of being on a border or in between phases prompts worries and heightens anxieties. Inverting this negative perception, Erekson will ask illuminating questions and share inspiring survival lessons from Mexican refugees, Texas politicians, and twenty-first century students who turned limitations into strengths, forged new pathways, and mobilized to make a difference.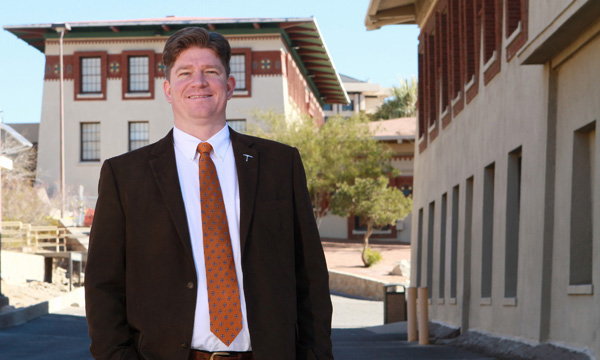 Keith A. Erekson is an author, speaker, and public historian. He is a widely-sought expert on history teaching and learning and has written numerous books and articles about public interest in history, including book-length studies of popular commemoration of Abraham Lincoln and the debate over the social studies curriculum in Texas. He speaks often to public audiences and the media, directs workshops with school teachers and history professionals, and consults with leaders of historical sites and commemorations.
Erekson earned the rank of associate professor of history at The University of Texas at El Paso, where he also served as executive director of UTEP's Centennial Celebration and founding director of UTEP's Center for History Teaching & Learning. In 2011 he received the prestigious Regents' Outstanding Teaching Award from the University of Texas System. He holds a bachelor's and master's degree from Brigham Young University, a doctoral degree in history from Indiana University, and a Master's of Business Administration from the University of Texas at El Paso. He currently serves as director of the Church History Library of The Church of Jesus Christ of Latter-day Saints, a state-of-the-art preservation facility located in Salt Lake City, Utah.
10:20-11:20 AM   Breakout Session I
11:20-12:30 PM    Rainbow Table Networking and Crossing Borders Award Presentation
12:30-1:30 PM      Trauma Informed Care Session led by Cynthia Horton and Beth Senger
1:40-2:40 PM        Breakout Session II
2:50-3:50 PM        Breakout Session III